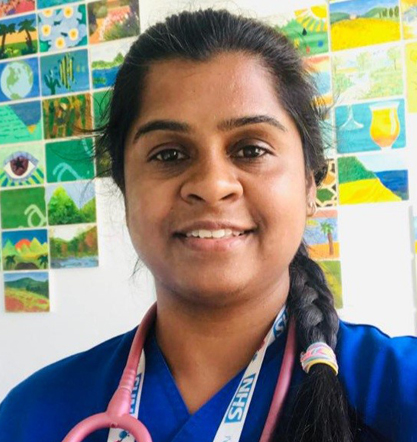 Kokila Swamynathan
Advanced Nurse Practitioner
Cwm Taf Morgannwg University Healthboard ,Wales.
I have completed my graduation in Nursing from Tamilnadu, India and worked in Apollo, Chennai for 2-year .Started my carrier in UK from 2001, progressed from adaptation Nurse to critical care outreach sister.
During my carrier, I worked in Royal Brompton and Harefield NHS trust, St George university Hospital, Kings College hospital London and Croydon University Hospital. Involved with policymaking, setting up Hyper Acute Stroke Unit and has done several teachings and training sessions in clinical settings. Moved to Wales few years ago as an ANP/ independent prescriber and now on ACP pathway. The pandemic situation made me to realise the importance of BAME network at work place and managed to establish very active BAME network in our trust. RCN CTM Branch recognised my work and appointed me as BAME representative for my trust. I am also working on developing Pastoral care policy for international Nurses along with Practice development/ educational department in our trust. I am a very optimistic person who believes on "an obstacle is often a stepping stone". I am so proud to be a part of BINA as an executive lead for Wales and I determined to amplify hope of every Indian Nurses who work UK.