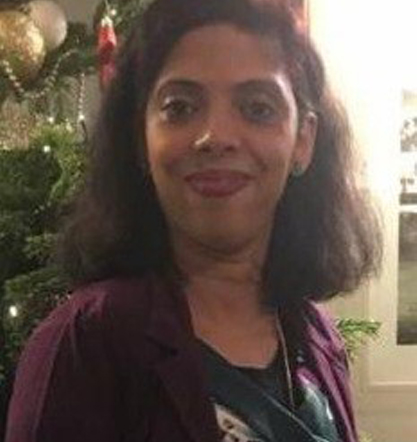 Anu Thomas,
Consultant Nurse & Stroke Clinical Lead
MSc (Nursing), MSc (Stroke)
ANVP – (American Board Certified - Stroke)
PG Cert (Critical Care), PG Diploma (Education)
Bsc (Nursing), Grad Diploma (Critical Care)
I have been the Consultant Nurse and Clinical lead for the Stroke Service, in one of the biggest acute Neuro Vascular Centres in the North West since April 2020.
I attained my Bachelor's degree in nursing from Karnataka, India and started my career in Cardiac Nursing at Care Hospital, Hyderabad. I went on to advance my career and skills as a nursing supervisor in ADK Hospital, Maldives, where I was promptly promoted to Head of Nursing.
In 2003 I relocated to the UK. From 2005-2016, I worked as a Staff Nurse in the Critical Care Unit at Lancashire Teaching Hospitals. I excelled in my position and acquired more knowledge and skills, to become an expert in Critical Care. During my career in the ICU I also attained a Graduate Diploma in Critical Care, a Post Graduate Diploma in education and a Master's in Nursing.
In 2016, I changed my professional area to Stroke medicine as a Band 6 Stroke Specialist Nurse and played a leading role in developing the service. I completed a number of associated courses and have now become an Advanced Practitioner in Acute Stroke and Neurovascular science.
My clinical placement was completed at Methodist University Hospital, Tennessee, USA, and I was awarded the clinical excellence certificate for 2018/2019. I am only one of four people in the UK who have excelled in Masters Level Advanced Neurovascular skills (Neurovascular Education and Training in Stroke management and Acute Reperfusion Therapy/ANVCBC). I am an active member of the faculty for NETsmart.
Currently I am working as the Consultant Nurse and Clinical Lead for the Stroke Service at Lancashire Teaching Hospitals and am passionate about stroke prevention and hyperacute stroke management. I have initiated and presented a number of local stroke awareness sessions within the community.
My excellent leadership skills, which have been reflected through high team morale and continued team development, have shown me to be a great advocate for stroke patients and their families. I continue to ensure that all stroke patients under my teams receive safe, effective and the best evidence-based care.
By imparting my knowledge and experience via a series of lectures to fourth-year medical students, middle grade Doctors, FY2 Doctors, and specialist nurses, I am working towards putting in place a future strategy to develop a workforce more aware of stroke prevention techniques. I aim to achieve this by delivering a consistent and structured method of teaching.
I am very proud to serve my patients as well as my organisation with dedication, passion, and commitment.