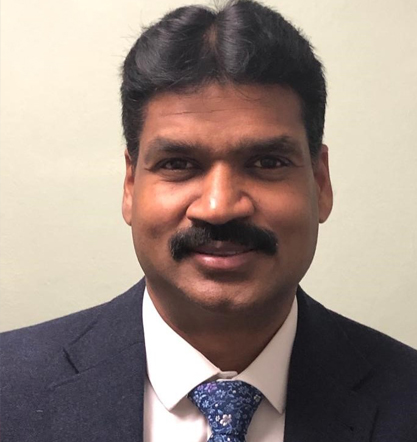 Suresh Babu Periyasamy
RN, BSc Nursing, PGDNA, MSc Advancing Practice
Suresh Babu Periyasamy, RN, BSc Nursing, PGDNA, MSc Advancing Practice, earned his Bachelor of Nursing degree from Tamilnadu Dr MGR Medical University (India) and Master of Science in Advancing Practice from Coventry University (UK) in 2011.
His close family and friends have always motivated him where most of them are involved in the medical filed in one way or another to serve the society. The great inspiration came from his mother as a community nurse during his primary education. The ecosystem and social setting gave Suresh a great opportunity to become a nurse and serve the community.
As a passionate individual, Suresh never stopped upgrading his skillsets for the last two decades with current advancement in the nursing filed. He is a highly experienced and expert Advanced Nurse Practitioner (ACP) who is always enthusiastic, hardworking and committed to deliver high quality and safe care for patients and service users. In the last 23 years of rich experience, not only has he become an independent nurse prescriber but also Suresh has gained expertise in a variety of specialities including intensive care, trauma, orthopaedic, neurosurgery, sports medicine, coronary care, acute medicine, care of elderly and emergency medicine. In the last decade, he has gained greater depth of experience as an Advanced Nurse Practitioner in Care of Elderly and Emergency Medicine.
Apart from the core experience in the nursing field, he has considerable experience in organisational development and learning aspects such as clinical role modelling, leadership, training, education and performance management. He is diligent and an excellent communicator. Suresh has been involved in the preparation of a teaching framework and delivery to medical and nursing staff both in formal and informal settings.
In a globalised world, Suresh with his vast experience likes to help supporting nurses who come from a diverse background such as Indian or BAME to develop their career in the nursing profession. Finally, Suresh believes working with BINA as a team will help many hardworking and deserving nursing professionals to flourish and achieve their ambitions.