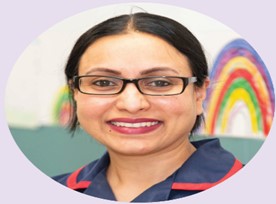 Reema Elvira D'Souza
Reema is currently working as an Associate Chief Nurse at Buckinghamshire Healthcare Trust. She moved to the UK in 2003 from India following her qualification as a nurse. She started her nursing career as an Auxiliary Nurse (Health Care Assistant) in 2003. She has worked in various acute care settings and various nursing roles and has extensive experience in Clinical, Trust-Wide Strategic, Governance, Management, Regulatory, Legislative and Operational leadership. She also holds a broader experience working at a regional, national and international level. She is a firm believer in visible leadership, empowering staff and succession planning.
Whilst providing excellent patient care has always been her primary goal, she has also focused on her own career path to improve her skills and qualifications. She takes great care to portray herself as a role model for all staff in their learning, professional and career development. She won the university medal in recognition of her outstanding achievement in her Master's degree in Advanced Practice in Cancer Care from Edinburgh Napier University in 2015. With her quest to support clinical research, she is currently doing her doctoral studies at Oxford Brookes University. She also delivers teaching sessions at the Oxford Brookes University as a specialist lecturer on Dementia, Governance and Frailty modules.
She has served as a co-chair for the OUH BAME staff network for 2 years prior to her current role as an Associate Chief Nurse, where she was instrumental in developing network priorities, supporting the network members, creating new opportunities to benefit the healthcare system and celebrating successes offered by a diverse workforce.
Alongside her commitment to daily work, she provides her service as a visiting professor to one of the hospitals in India, where she shares her knowledge, skills and experience to benefit the skills of the local workforce and the healthcare of the local population.
She is hard-working, self-disciplined, tactful, diplomatic and at ease with people. She is keen to share her knowledge, experience and network of colleagues she has built up for around 19 years in the NHS with other BINA members.
In her own words, she says "I am a lifelong learner and passionate about collective working, person-centredness, integrated approach, open safety culture, inclusivity and steady improvements.
I am keen to see the growth of network members, celebrate our achievements, be an advocate to collectively tackle workplace inequalities and create new opportunities to benefit the profession as a whole. I believe that everyone's lived experience of a situation is different, and therefore, I want to advocate for individualised support mechanisms that are tailored to the need of the network member, including influencing policies and protocols that relate to us. I would like to reach out, listen, support and guide network members and work through our realities together".